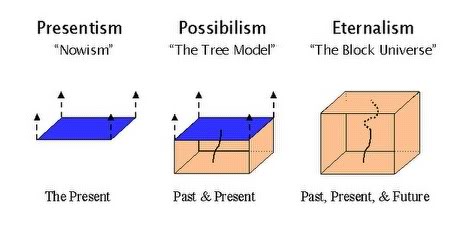 (above picture is missing the theory that only the present and future exist as an ever-receding block of existence)
I don't mean to make this post a fleshed-out metaphysical theory, but just an expression of something I found to be curious. I'm also slightly drunk.
In philosophy of time, and for those who accept that the question of time is a substantial issue (and not just a language ambiguity - I'm sympathetic to this idea), the debate generally happens between presentists and eternalists.
Presentists believe, as the name suggests, that the present is the only thing that "exists" (analytics are often haughtily dismissive of what this actually
means
, but that's another issue;
ontic
vs
ontological
blah blah blah "stupid conty shit", go team ahistorical analytics! Reinventing the wheel is great! 😒 READ A FUCKING BOOK YOU DUMBASSES), whereas eternalists believe that the past and/or future exist and are just as real as the present (time is an "eternal present"). Eternalism works well with Einstein's timeless (pun intended) theory of relativity, but presentists have offered possibilities of grounding modern physics without a realist interpretation of the past and future.
The question I have for presentists is how they suggest to ground ethics. I could be wrong here, of course, since this is really only something I happened to notice, but if the present is the only thing that exists,
then what grounds ethical claims about the past and future?
For instance, if I promise a friend that I will help them fix their bicycle tomorrow morning, and I sleep in instead, my friend might ask me, "I thought you promised you would help me!", and I (a presentist, for the sake of argument), might reply with "what promise? lulz", implying that, since the past does not exist, I have no obligation to fulfill a promise, since this promise must not exist either.
Another example: I sense that something absolutely terrible is about to happen. But since I'm a presentist (in this example), I decide it's no big deal since the future doesn't actually exist, and if the terrible thing comes to be, it will quickly disappear into the non-existent past. No big deal, right?
As a real-world example: there are individuals who nobly dedicate their entire lives to making sure atrocities, like the Holocaust, are not forgotten. Yet if the past does not exist, does this mean the Holocaust didn't actually "happen"? What does it mean when we say "the Holocaust resulted in the systematic murder of six million Jews?" if the past does not actually exist? Is it really the case that all that horror, all that suffering and brutality, every-single one of the six million Jews murdered, just
poof!
suddenly do not exist? What
happened
to it all? (interjection: fuck Holocaust deniers).
Does this make the past (and the future) simply a
fiction
? How do we ground ethics if this is true? How does
responsibility
make any sense at all?
It is obvious that we see past horrible atrocities
as still horrible atrocities
. We still
regret
that something happened. It's as if it's "stored" somewhere, a "mark" on the world. Eternalism about time handles this quite easily, as it suggests that the past (and perhaps the future, if we're determinists), exists in their own right. How might the presentist go about grounding ethical propositions regarding the past and future? How does the presentist ground ethics
at all
, if the present is the only thing that exists, and therefore a "clean slate" no matter what "happened" before?
I don't have a position in regards to the philosophy of time, so I can't speak for anyone but myself here, but I think perhaps a way the presentist might get around this dilemma is to hypothesize that there is some Platonic-esque realm in which
facts
exists, facts that are tensed. That the Holocaust happened is a
fact
, and therefore actually exists and can therefore be predicated.
This is not very satisfactory, at least to myself, because I very clearly have reservations about what has happened and what may/will occur (admittedly, I have no substantial views on causality and free will). That the Holocaust happened is
more
than "just a fact" to me. To me, the suffering of the millions of victims of the Holocaust "echoes" in time, like a weight that isn't just an illusion. A fact, on the other hand, is "just a fact", an emotion-less, feeling-less "something" that, if the presentist is correct, predicates on something that does not exist.
If something no longer exists, does it still matter?
How could it?
Ask yourself, if presentism is correct, and the past no longer exists, then does it actually really
matter
if the Holocaust "happened"?
Would history just be a fiction?
Not just ethical claims - how does the presentist ground historical propositions in general? What is the difference between two identical-present worlds that have a history and not, if presentism is correct? If presentism is true, and the past and future non-existent, then what is the present if not just an infinitesimally and impossibly small flash of nothing?
Again, this is just an observation of mine. Comments and critique are welcome and encouraged. (also, once again,
fuck
Holocaust deniers, and
fuck
the modern-day Nazis, the lowest of the low, the Platonic form of a piece of shit).